Educating young NF Ambassadors
In summer 2022 NF Patients United again launches its academy for young adults affected by Neurofibromatosis. It will be an educational program, a mixture of joint discussions and individual work. Young patients, or siblings of patients, will learn about NF1, NF2 and Schwannomatosis, patient advocacy, patient involvement in research and how to deal with the challenges that they are facing.
Our training will allow participants to become NF ambassadors and to work with patient organizations on a national level and with NFPU on a European level, and that way represent the interests of young NF patients. They will meet patients with the same condition from all over Europe and work together for a better future for NF patients.
The NF Ambassador training 2022
The next NF young patients academy will take place in the city of Vienna, Austria in summer 2022:
Location: Vienna region (Austria)
Date: Aug. 12th-19th, 2022
Participants can be patients, siblings or young parents of children with NF
Age group: 18 – 30 years
Diploma: Certificate as NF Ambassador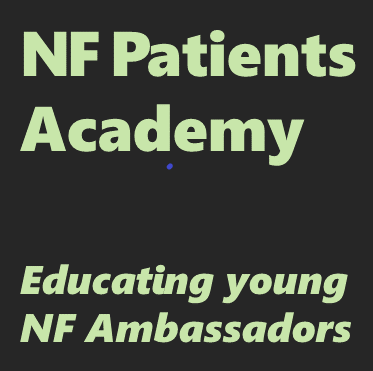 Info
If your national NF organisation is NFPU member:
Contact your NF Patients United member organisation, who can cover the costs for travelling, the stay and all training at the NF Patients Academy. Then register here for the academy!

For all other individuals:
We are very much looking forward to NF patients or relatives from NF patients, who are not part of a NFPU member organisation by now. That's why we provide scholarships for participation at the NF Patients Academy 2022. If you are interested please send us a motivational letter and tell us why you want to join the NF academy and what do you want to achieve for NF patients with the new knowledge from the NF Patients Academy.
Write to: info@nf-patients.eu
All applications will be reviewed by June 19th, 2022 . After that candidates will be informed immediately about the application process.
We look forward to your application!
Registration:
The deadline for registration 2022 is closed. If you are interested in participation in our next NF patients academy, email us for pre-registration:
info@nf-patients.eu
The NF Patients Academy 2022, Vienna is supported by:
---
This was the NF Patients Academy 2020
In 2020 NF Patients United launched it first NF Academy for young patients. There the participants worked out together a charta for "Young Patient´s Needs". You find that document here on our website.
Melpo Pittara is one of the graduates of the NF Patient Academy in 2020. On the NF Patients United annual meeting 2020 she presented the academy and her impressions of the edcucation. Watch her presentation here: